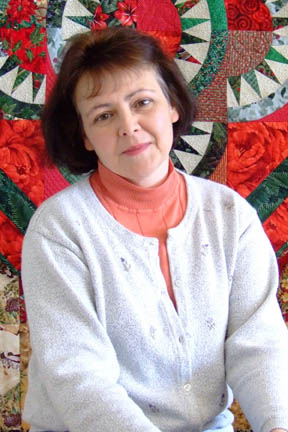 Karen Neary has worked as a professional quilt designer since 1989. A prolific designer, her quilts have been featured in numerous

magazines including Quilter's Newsletter, McCall's Quilting, AQS Magazine, Quilter's Connection and The Canadian Quilter. For 12 years, Karen wrote a regular column in Quick & Easy Quilting magazine, and served as an ambassador for Island Batik for two years. She continues to design for Island Batik's new lines shown at spring and fall quilt markets.As time permits, Karen shares her love of quilting in workshops and trunk shows.


Karen has contributed to 16 books (C&T Publishing, House of White Birches, Leisure Arts, DRG), and authored two: Quilting Beauties (AQS) and Canadian Heritage Quilting with Diane Shink (Formac Publishing). She has designed projects for Island Batik, Hoffman, Stof, Benartex, Robert Kaufman Fine Fabrics, YLI Thread, Freudenberg-Pellon, Sew-Fit Templates, Michael Miller Fabrics, Northcott, Hobbs Batting and P&B Textiles. Several of Karen's quilts have been exhibited at International Quilt Festival in Houston, Texas and AQS Paducah. Her work has been exhibited in Canada, Japan, United States, and France. Karen's proudest accomplishment was making a quilt which was presented to Sir Paul McCartney on his visit to Nova Scotia in 2009.

Karen Neary is a graduate of the Bachelor of Arts and Bachelor of Education programs at Mount Allison University. She is a member of the Mayflower Quilt Guild of Nova Scotia, Canadian Quilter's Association, and an honourary member of La Guilde Acadienne de Clare. Karen hails from Five Islands and currently resides in Amherst, Nova Scotia, Canada.